ELITE SALES TEAM TRAINING
The Perfect Companion for Team Training Sessions:
"The Work Before the Work"
Paul M. Caffrey's book, "The Work Before the Work, The Hidden Habits Elite Sales Professionals Use to Outperform the Competition" serves as an excellent companion to our sales team training sessions. This comprehensive guide offers over 100+ bite-sized tips focusing on prospecting, selling, and advancing your career in sales.
The book significantly underlines and emphasizes the crucial thinking framework necessary for professional preparation. It drives home the understanding that more sales activities, executed with precision, lead to improved results. Each tip is designed to spark fresh insights and reinvigorate your sales strategy, helping you approach sales from the mindset of an elite professional.
"The Work Before the Work" serves as a persistent reminder to continually apply the training principles in your everyday sales activities. Acting as a prompter, it encourages you to embody the approach and methods of elite sales professionals, reinforcing the training's lessons and making them a part of your daily routine.
To ensure that every attendee of the training session gets their hands on this invaluable resource, we provide several options for book distribution. During your initial planning call with Paul, make sure to ask about the possibilities available to you. With "The Work Before the Work" at your disposal, you'll be well-equipped to elevate your sales performance and outperform the competition.
BOOK A CALL TO EXPLORE TEAM TRAINING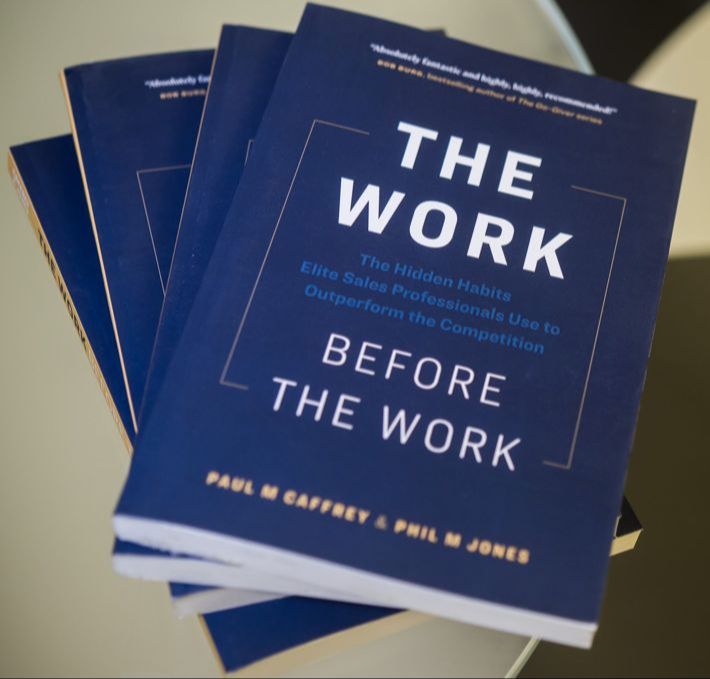 Outcomes of Paul M. Caffrey's Sales Team Training
Engaging in Paul M. Caffrey's sales team training can lead to transformative outcomes for both individual salespeople and entire sales teams. The training equips participants with a robust framework, designed to prepare salespeople for all types of sales activities, ensuring they consistently perform at an optimal level.
A standout feature of the training is a personalized action guide provided to each participant. This resource is not just a book, but a toolkit filled with practical advice and strategies that can be implemented immediately. Whether the focus is on prospecting or closing sales, this guide delivers the tools required to translate the insights from the training into immediate and effective action.
Sales leaders will observe a marked improvement in both prospecting and sales activities, resulting in more successful outcomes. This is attributable to the training's emphasis on elite sales tactics and strategies, coupled with the critical role of in-depth preparation.
In summary, Paul's sales team training cultivates a more motivated and proactive sales team. It arms them with the expertise and knowledge to operate at an elite level, outpacing competitors and challenging the status quo. Equipped with these enhanced abilities, your sales team will be poised to navigate challenges, seize opportunities, and drive a significant increase in sales success.
BOOK A CALL TO EXPLORE TEAM TRAINING
Understanding Paul's Training Fees
Every team training presents unique requirements, which makes it challenging to establish a standard pricing due to the vast array of variables at play.
When you invest in Paul's services, you're not just paying for the presentation. You're investing in his years of dedication, his extensive experience, and the time and effort he puts into preparing and consulting to deliver a presentation tailored to your needs.
When you hire Paul, you're partnering with someone who is committed to boosting your team's profitability, helping you stand out from competitors, and increasing your value in the marketplace. As such, please understand that engaging Paul's services is considered a premium offering.
By hiring Paul, you're securing his undivided attention. You're pulling him away from his personal commitments and business interests to focus exclusively on meeting the needs of you and your audience.
To learn more about hiring Paul, get detailed information on his fees, and discuss his availability, book a call now.
BOOK A CALL TO EXPLORE TEAM TRAINING
Frequently Asked Questions
We've noticed that there are certain queries that frequently arise prior to engaging Paul's services. To address these upfront, we've compiled some of the most frequently asked questions and had Paul provide his personal responses to each.
I operate a small team and we're working on a tight budget – can Paul still assist us?
Can you work with our Learning Management System (LMS)?
Can we capture the sessions for future use?
How is Paul capable of providing so much?
What are the technical prerequisites?
Is Paul open to pre-recording his sessions?
What's the optimal duration for a presentation?
How can we include books for the participants?
Is a team training mandatory to engage Paul? What happens if I've an onsite SKO/Quarterly offsite?